NESTLÉ Mat Kool Chocomilky Stick (10 Sticks)
12463065-10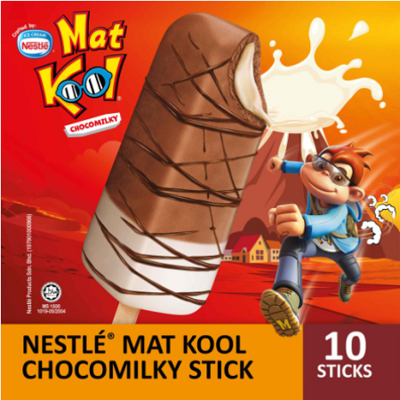 Just 10
Just launched today, 6 March 2021 and already starts shipping! ***Ready Stock***
Kids love the taste of refreshing, cool and awesome flavours. It is no wonder that MAT KOOL® is the most popular kids range ice cream in Malaysia.

At NESTLÉ ICE CREAM, we take pride in delighting kids and mums. That is the reason we ensure all of our products are made from the safest and highest quality ingredients. Right from the base to the colouring, they're all NATURAL.

Order by 10 sticks x NESTLÉ Mat Kool Chocomilky (57ml)
Delivery takes 3 - 7 working days depending on your location.
(Rushed / express delivery is currently not available)
Your order will be delivered by our designated Nestle cold truck to ensure the freshness and quality of products.
Self-Pickup is available in Mak Mandin, Butterworth, please see delivery and pickup information.
Payment by secured online payment (Bank Transfer & E-Wallets).
No order cancellation, exchange, return or refund is allowed once an order is placed and paid.